I. Introduction to Classic Italian Spaghetti Carbonara Recipe
Italian cuisine is known for its rich flavors and traditional recipes that have been passed down through generations. One such classic dish that has gained popularity worldwide is the Italian Spaghetti Carbonara. This delectable pasta dish originates from Rome and is loved for its creamy texture and savory taste.
The origins of this beloved recipe are somewhat debated, with some claiming it was created by coal miners in the Apennine Mountains who used charcoal as a cooking fuel, while others believe it was inspired by the American "bacon and eggs" breakfast during World War II. Regardless of its history, Spaghetti Carbonara has become a staple in Italian culinary culture.
Made with basic ingredients like spaghetti, eggs, Parmesan cheese, pancetta or bacon, black pepper, and sometimes cream or butter (depending on regional variations), this dish offers a burst of flavors that will leave your taste buds wanting more.
The Perfect Pasta:
When preparing Classic Italian Spaghetti Carbonara at home, it's crucial to choose the right pasta. Opt for high-quality dried spaghetti or fresh egg-based pasta if available. The ideal choice would be long strands of al dente spaghetti that can hold up well against the richness of the sauce.
A Creamy Sauce:
The key to achieving an authentic carbonara sauce lies in using fresh eggs combined with grated Parmesan cheese. Some chefs also add pecorino Romano cheese for an extra tangy flavor profile. It's important to note that traditional carbonara does not use cream or butter as these can dilute the distinct flavors.
Crispy Pancetta/Bacon:
To infuse your carbonara with smoky goodness, pancetta or bacon plays a vital role. Sauté the pancetta or bacon until it turns crispy, releasing its savory aroma and adding a delightful crunch to the dish.
Seasoning with Black Pepper:
A generous amount of freshly ground black pepper is essential for an authentic carbonara. The heat from the pepper elevates the flavors and adds a subtle spiciness that complements the richness of the sauce.
By mastering these key elements, you can create an exquisite Classic Italian Spaghetti Carbonara right in your own kitchen. So gather your ingredients, roll up your sleeves, and get ready to savor this timeless Italian dish!
II. History of Spaghetti Carbonara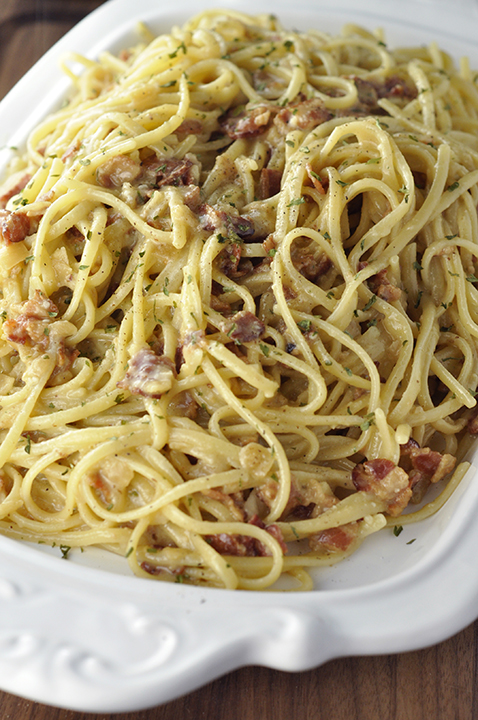 Spaghetti carbonara is a classic Italian dish that has gained popularity all over the world. Its origins can be traced back to Rome, where it was first created in the mid-20th century. The exact history of spaghetti carbonara is somewhat disputed, with several theories surrounding its invention.
The Roman Origins
One theory suggests that spaghetti carbonara was invented by Italian coal miners in the Apennine Mountains near Rome. These miners needed a hearty and filling meal to sustain them during their long shifts underground. They would often bring eggs, cheese, pancetta (Italian bacon), and pasta with them into the mines.
The story goes that when it was time for lunch break, they would cook up a simple dish using these ingredients. They would mix beaten eggs with grated Pecorino Romano cheese and toss this mixture together with crispy pancetta bits and freshly cooked spaghetti noodles.
Influence of Allied Forces
Another theory suggests that spaghetti carbonara was brought to Italy by American soldiers stationed in Rome during World War II. It is said that they introduced locals to dishes like bacon and eggs, which eventually merged with traditional Italian cuisine to create new recipes such as carbonara.
The addition of black pepper is often attributed to American soldiers as well since it became a common ingredient used in their rations at the time.
Evolving Recipe
Over time, the recipe for spaghetti carbonara has evolved slightly from its humble beginnings. While traditionally made with pancetta or guanciale (cured pork jowl), some variations now use bacon as a more accessible substitute.
Additionally, cream or milk may sometimes be added to create a creamier sauce consistency; however, this is not considered traditional in Italian cuisine.
Popularity and International Recognition
Spaghetti carbonara gained significant popularity outside of Italy during the mid-20th century. In the United States and other countries, it became a beloved dish for its simplicity, rich flavors, and comforting nature.
Today, spaghetti carbonara is widely recognized as one of Italy's most famous pasta dishes. It can be found on menus in Italian restaurants all over the world and has become a staple comfort food for many.
The history of spaghetti carbonara may have some uncertainties surrounding its exact origins, but its delicious taste and enduring appeal are undeniable.
III. Ingredients for a Traditional Spaghetti Carbonara
When it comes to preparing a traditional spaghetti carbonara, the key lies in using the right ingredients. This classic Italian dish requires just a handful of staple items that come together to create a rich and flavorful pasta masterpiece.
The Pasta
The foundation of any spaghetti carbonara is, of course, the pasta itself. Opt for long, thin spaghetti noodles made from durum wheat semolina. Their firm texture will hold up well when combined with the creamy sauce.
Eggs
Eggs play a crucial role in giving carbonara its luscious consistency. Use high-quality eggs that are fresh and organic if possible. The richness of free-range eggs imparts an incredible depth of flavor to the dish.
Pancetta or Guanciale
No proper carbonara would be complete without pancetta or guanciale – two types of Italian cured pork products. Pancetta is made from pork belly while guanciale comes from pork jowl or cheeks. Both offer savory and slightly salty flavors that perfectly complement the other ingredients.
Parmigiano-Reggiano Cheese
An essential ingredient for any authentic Italian recipe, Parmigiano-Reggiano cheese adds a nutty and salty taste to carbonara while also providing creaminess when melted into the sauce. Grate it fresh just before adding it to your dish for maximum flavor.
Black Pepper
A generous amount of freshly ground black pepper is characteristic of traditional spaghetti carbonara recipes. It adds warmth and depth to balance out the richness of the other ingredients.
In conclusion, creating an authentic spaghetti carbonara begins with selecting quality ingredients such as durum wheat spaghetti, fresh eggs, pancetta or guanciale, Parmigiano-Reggiano cheese, and freshly ground black pepper. These elements combine harmoniously to produce a dish that is both comforting and indulgent. So next time you're craving a taste of Italy, gather these key ingredients and embark on a culinary journey with this classic recipe.
IV. Step-by-Step Instructions on How to Make Spaghetti Carbonara
Making spaghetti carbonara may seem intimidating, but it's actually quite simple. Follow these step-by-step instructions to create a delicious and authentic Italian dish that will impress your friends and family.
Gather Your Ingredients
Before you begin, gather all the necessary ingredients for spaghetti carbonara. You'll need:
8 ounces of spaghetti pasta
4 slices of bacon, chopped into small pieces
2 cloves of garlic, minced
3 large egg yolks
1 cup grated Parmesan cheese
Salt and pepper to taste
Fresh parsley for garnish (optional)
Cook the Pasta Al Dente
In a large pot, bring water to a boil and add salt. Cook the spaghetti according to package instructions until it is al dente – firm but still tender. Drain the pasta but save about half a cup of the cooking water.
Crisp Up the Bacon Bits
In a skillet over medium heat, cook the chopped bacon until it becomes crispy and golden brown. Remove from heat and set aside, leaving some bacon fat in the pan.
Sauté Garlic in Bacon Fat
Add minced garlic to the skillet with bacon fat and sauté it until fragrant. Be careful not to burn it; otherwise, it will give your dish an unpleasant taste.
Create Egg Mixture
In a bowl, whisk together three large egg yolks with grated Parmesan cheese until well combined. Season with salt and pepper to taste.
Toss Pasta in Bacon Fat, Add Egg Mixture
Return the skillet with bacon fat and garlic to low heat. Add the cooked pasta to the skillet, tossing it in the bacon fat until well coated. Remove from heat and let it cool for a minute or two.
Spoon the egg mixture over the pasta while continuously stirring to prevent scrambled eggs from forming. The heat of the pasta will gently cook the eggs, creating a creamy sauce.
Add Bacon Bits and Serve
Once your spaghetti carbonara is evenly coated with creamy sauce, add back in your crispy bacon bits. Toss everything together until well combined. If desired, garnish with fresh parsley for added freshness and color.
Your homemade spaghetti carbonara is now ready to be enjoyed! Serve it immediately while still warm, and savor every bite of this classic Italian dish that's bursting with flavors.
V. Tips and Tricks for a Perfect Spaghetti Carbonara
Spaghetti Carbonara is a classic Italian dish that combines simple ingredients to create a rich and flavorful pasta dish. While the recipe may seem straightforward, there are some tips and tricks that can elevate your carbonara game to the next level. Here are some expert suggestions to help you achieve the perfect spaghetti carbonara:
1. Use Guanciale or Pancetta
The traditional recipe calls for guanciale, which is cured pork jowl, but pancetta works well too if you can't find guanciale. Both provide a deliciously fatty base for the sauce and add depth of flavor.
2. Cook Pasta Al Dente
To achieve authentic Italian texture, cook your pasta al dente, which means it should still have a slight bite when you taste it. This will prevent your spaghetti from becoming mushy when combined with the sauce.
3. Save Some Pasta Water
Before draining your cooked pasta, remember to save a cup of pasta water. The starchy water helps create a silky smooth sauce by emulsifying with the other ingredients.
4. Mix Eggs and Cheese Separately
In another bowl, whisk together eggs (preferably room temperature) and grated Pecorino Romano or Parmigiano-Reggiano cheese until well combined before adding them to the pan with cooked pasta and bacon/pancetta mixture.
5. Temper Your Eggs
To avoid scrambling your eggs when combining them with hot ingredients like cooked bacon/pancetta and pasta, temper them first by slowly adding small amounts of hot mixture while continuously whisking until they reach similar temperatures.
6. Toss, Don't Cook
When combining the sauce with the pasta, it's important to toss everything together rather than continuing to cook it over heat. This ensures a creamy consistency without scrambling the eggs.
7. Season with Black Pepper
Carbonara is typically seasoned with freshly ground black pepper. Add a generous amount to enhance the flavor and give your dish that signature kick.
8. Garnish and Serve Immediately
To add an extra touch of freshness and color, garnish your spaghetti carbonara with chopped parsley or basil leaves before serving. Remember, carbonara is best enjoyed right away while it's still hot!
VI. Frequently Asked Questions about Spaghetti Carbonara
1. What is the traditional way to cook spaghetti carbonara?
The traditional way to cook spaghetti carbonara involves cooking bacon or pancetta until crispy, then adding beaten eggs and grated Pecorino Romano cheese to create a creamy sauce. This mixture is then tossed with cooked spaghetti until well coated.
2. Can I use any type of pasta for carbonara?
While spaghetti is the most commonly used pasta for carbonara, you can experiment with other types of pasta such as fettuccine or linguine if you prefer a different texture.
3. Is it necessary to use raw eggs in carbonara?
Yes, raw eggs are an essential ingredient in traditional carbonara recipes as they provide the creamy texture and richness that characterizes this dish. However, if you have concerns about consuming raw eggs, you can opt for pasteurized eggs or substitute them with cream.
4. Can I add vegetables or other ingredients to my carbonara?
Traditional Italian carbonara recipes do not typically include vegetables or additional ingredients beyond the core components of bacon (or pancetta), eggs, cheese, and black pepper. However, feel free to customize your recipe by adding sautéed mushrooms, peas, or even roasted garlic if desired.
5. How do I prevent scrambled eggs in my carbonara sauce?
To avoid scrambling the eggs when making the sauce for your spaghetti carbonara, make sure to remove the pan from heat before adding them and quickly toss everything together until fully combined.
6. Is it possible to make a vegetarian version of spaghetti carbonara?
Yes! You can create a delicious vegetarian version by substituting bacon with tempeh or mushrooms and using vegetarian-friendly cheese. The flavors may differ slightly but the dish will still be enjoyable.
7. Can I reheat leftover carbonara?
While it is possible to reheat leftover carbonara, the texture of the sauce might change as eggs tend to solidify when reheated. It's best to consume carbonara immediately after cooking, but if you do have leftovers, gently reheat them in a pan over low heat while stirring continuously.
8. Is spaghetti carbonara gluten-free?
Traditional spaghetti made from wheat contains gluten, so it is not naturally gluten-free. However, you can find gluten-free pasta options made from alternative flours like rice or corn that can be used for making a gluten-free version of spaghetti carbonara.
VII. Conclusion: Enjoying the Authentic Italian Spaghetti Carbonara
When preparing your own spaghetti carbonara, remember to use high-quality ingredients such as freshly grated Pecorino Romano or Parmigiano-Reggiano cheese, pancetta or guanciale, and organic eggs. These key components contribute to the distinct taste that makes this dish so special.
To achieve that creamy texture everyone craves, it's crucial not to overcook your pasta. Al dente pasta provides the perfect balance between softness and bite when combined with the rich sauce created from eggs, cheese, and crispy pancetta or guanciale.
While traditionally made with spaghetti noodles, feel free to experiment with other types of pasta shapes if you're feeling adventurous. The sauce pairs well with rigatoni, fettuccine, or even penne – allowing you to enjoy those delectable flavors in different forms.
Elevating Your Carbonara Experience
If you want to take your enjoyment of authentic Italian spaghetti carbonara up a notch, consider these tips:
Add a sprinkle of freshly ground black pepper on top just before serving for an extra kick of flavor.
Garnish your plate with some chopped fresh parsley or basil leaves for added freshness and visual appeal.
Serve alongside a glass of full-bodied red wine like Sangiovese or Barbera – their robust flavors complement this dish wonderfully.
Create an antipasto platter with cured meats, olives, and cheeses to enjoy before digging into your carbonara – a perfect way to start your Italian feast.
For a vegetarian twist, replace the pancetta or guanciale with sautéed mushrooms or crispy fried eggplant slices.
Remember, the joy of eating spaghetti carbonara lies not only in its taste but also in the experience it offers. So gather your loved ones around the table and savor this classic Italian dish together. Buon appetito!
Brenda Gilbert is a talented and passionate writer with an insatiable love for all things food. With her exceptional culinary knowledge and knack for storytelling, Brenda has captivated audiences through her engaging articles and mouthwatering recipes.
Born and raised in a small town, Brenda's fascination with food began at an early age. Her curiosity led her to explore various cuisines, experiment in the kitchen, and develop a deep appreciation for the art of cooking. Fuelled by this passion, she pursued higher education to refine her skills.
Brenda completed her Bachelor's degree in Culinary Arts from the prestigious Le Cordon Bleu Institute. During her time there, she honed her techniques under renowned chefs who pushed the boundaries of gastronomy. This invaluable experience not only expanded Brenda's culinary repertoire but also instilled in her a desire to share this knowledge with others.
After obtaining her degree, Brenda embarked on a journey as a professional chef, working at renowned restaurants where she continued to push herself creatively while perfecting classic dishes. However, it was through writing that she found the perfect avenue to combine both of her passions – food and storytelling.
With years of experience as both a chef and writer under her belt, Brenda possesses an innate ability to bring recipes to life through vivid descriptions that ignite readers' senses. Her articles seamlessly blend informative content with captivating narratives that cater to both seasoned food enthusiasts and beginners looking for inspiration.
Whether it's exploring exotic spices from distant lands or delving into traditional family recipes passed down through generations, Brenda has an unparalleled ability to transport readers into the vibrant world of flavors within each dish she writes about.
When not busy crafting delectable pieces on paper or experimenting in the kitchen herself, you can find Brenda Gilbert sharing tips on social media platforms or hosting interactive workshops where she imparts valuable insights on cooking techniques along with practical advice for aspiring chefs.
Brenda Gilbert is undoubtedly an influential figure in the culinary world, leaving an indelible mark through her writing that has inspired countless individuals to embrace their love for food and discover the joy of cooking.