I. Introduction to Spooky Halloween Treats
Halloween is just around the corner, and what better way to celebrate than by indulging in some spooky treats? Whether you're hosting a Halloween party, attending a costume gathering, or simply looking for some fun snacks to enjoy with your family and friends, these spooky Halloween treats are sure to impress. From creepy cookies to ghoulish punch bowls, there's something for everyone of all ages.
When it comes to Halloween treats, the goal is not only to satisfy your taste buds but also to create an eerie atmosphere that adds excitement and thrills. The best part is that you don't have to be an experienced chef or spend hours in the kitchen – these recipes are simple yet impressive.
A. Wicked Witch Finger Cookies
No Halloween celebration would be complete without some wicked witch finger cookies. These creepy yet delicious treats are made with basic ingredients like butter, sugar, flour, almond extract, and sliced almonds for that realistic fingernail effect. With their green hue and long finger-like shape, they'll definitely add a spooky touch to any spread.
B. Graveyard Dirt Cups
Graveyard dirt cups are another favorite among both kids and adults alike. These individual dessert cups mimic a graveyard scene with layers of chocolate pudding representing soil, crushed Oreo cookies as dirt crumbles, and tombstone-shaped cookies for decoration. It's a fun activity for everyone involved as they assemble their own personalized graveyard treat.
C. Creepy Crawly Punch Bowl
To quench your thirst after all those frightful screams during trick-or-treating or party games, try making a creepy crawly punch bowl! Combine fruit juices like orange juice and pineapple juice with sparkling water or lemon-lime soda for a refreshing base. Add in some gummy worms, plastic spiders, or floating eyeballs for that extra creepy touch. This chilling beverage will surely be the centerpiece of your Halloween gathering.
D. Mummy Hot Dogs
For a savory treat, mummy hot dogs are a must-try option. Wrap pre-cooked hot dogs in strips of crescent roll dough to create the illusion of mummies. Leave a small opening for the eyes and bake until golden brown. These cute yet spooky snacks are not only delicious but also perfect for a quick bite during your Halloween festivities.
So there you have it – an introduction to some spooky Halloween treats that will leave everyone craving more. Get creative with your decorations and presentation to enhance the eerie atmosphere even further. Remember, Halloween is all about having fun and indulging in deliciously creepy delights!
II. Spooky Halloween Treats for Kids
Halloween is a time of spookiness and fun, especially for kids who eagerly await the festivities and the treats that come with it. If you're looking to make this Halloween extra memorable for your little ones, here are some spooky treats that will surely delight their taste buds:
1. Ghostly Banana Pops
Transform ordinary bananas into adorable ghostly figures by dipping them in melted white chocolate. Use mini chocolate chips to create eyes and a mouth. Place them on popsicle sticks and let them set in the freezer until firm. These ghostly banana pops are not only delicious but also a healthy alternative to sugary snacks.
2. Monster Eyeball Cookies
Add a touch of spookiness to classic sugar cookies by decorating them as monster eyeballs. Start by preparing your favorite sugar cookie dough, then roll it into small balls. Press a candy eyeball or use frosting to create an eye shape on each cookie before baking them in the oven. Once cooled, serve these creepy yet tasty treats.
3. Witch's Cauldron Rice Krispie Treats
Rice Krispie treats get a bewitching makeover with this recipe! Prepare the traditional Rice Krispie mixture and shape it into cauldrons using greased bowls as molds. Add green food coloring to marshmallow fluff and fill each cauldron with this "witches' brew." Top it off with gum
4. Spiderweb Cupcakes
Create edible spiderwebs on top of cupcakes using black icing or melted chocolate ganache drizzled over white frosting (or vice versa). Use a toothpick or skewer to drag lines from the center outward, creating a web-like pattern. Place a plastic spider ring on top for an extra spooky touch.
5. Mummy Hot Dogs
Wrap crescent roll dough around hot dogs to make them look like mummies. Leave a small area uncovered near one end for the "face." Bake them until the dough turns golden brown and serve with ketchup or mustard as dipping sauces. These mummy hot dogs are sure to be a hit at any Halloween party.
With these easy and fun recipes, you can create spooky Halloween treats that will leave your little ones thrilled and excited. Let their imaginations run wild as they indulge in these deliciously frightful creations!
III. Creative Halloween Treats for Adults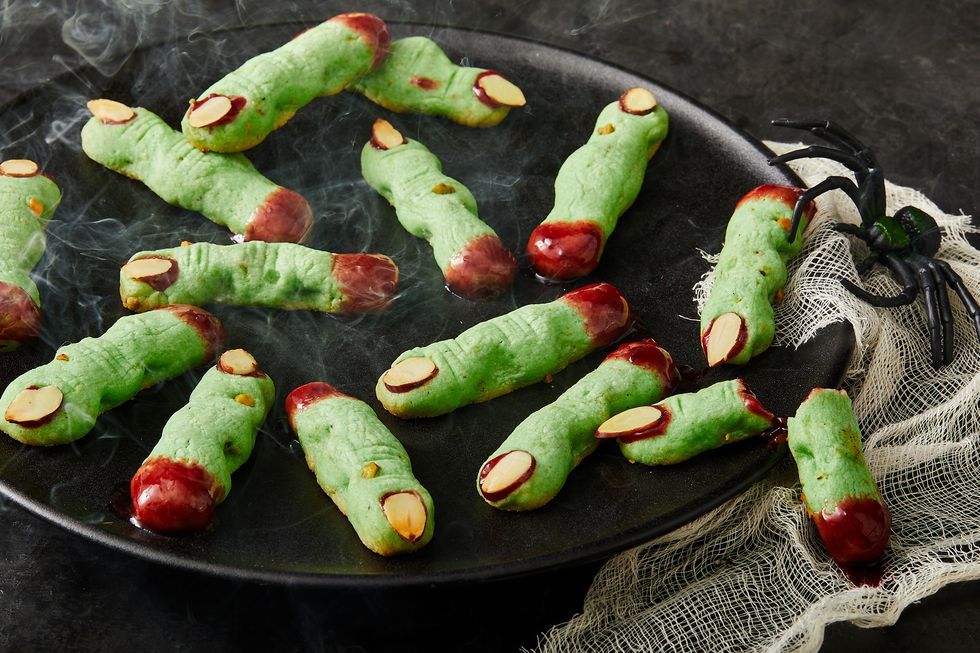 When it comes to Halloween, adults often get overlooked in the treat department. While kids happily indulge in candies and chocolates, adults can also enjoy some spooky and creative treats that will add a touch of fun to their celebrations. Here are a few ideas that will satisfy the grown-up taste buds:
1. Wicked Witch Cocktail
Kick off your Halloween festivities with a wickedly delicious witch-themed cocktail. Blend together vodka, blue curacao, lime juice, and simple syrup with ice until smooth. Pour the mixture into glasses rimmed with black sugar crystals for an eerie effect. Garnish each glass with a miniature broomstick made from licorice sticks.
2. Spooky Spider Deviled Eggs
Add some creepiness to your appetizers by making spider deviled eggs. Prepare hard-boiled eggs as usual and cut them in half lengthwise. Remove the yolks and mix them with mayonnaise, mustard, salt, pepper, and paprika until creamy. Pipe or spoon the yolk mixture back into the egg whites to create spiders' bodies. Use sliced black olives as legs and red pepper strips as eyes.
3. Graveyard Pudding Cups
Create individual graveyard-themed desserts using chocolate pudding cups as gravestones! Crush chocolate sandwich cookies to make "dirt" for each cup's top layer of soil-like texture while leaving one cookie intact for each grave marker headstone (write RIP on it using food coloring or icing). Insert these cookies into the pudding cups before serving to give your guests a spooktacular dessert experience.
4.Witch Finger Cookies
No Halloween celebration is complete without some creepy finger-shaped treats! Prepare a simple sugar cookie dough and shape it into long, thin fingers. Use sliced almonds as nails and create knuckles by scoring the dough with a knife. Bake until golden brown, then let them cool before serving them on a platter with strawberry jam "blood" for dipping.
5. Poisoned Candy Apples
Add an element of mystery to the classic candy apple by making poisoned versions! Dip apples into melted black or dark purple candy melts, then sprinkle edible glitter for an enchanting touch. Insert wooden sticks into each apple and let them set on parchment paper. Serve these bewitching treats at your Halloween party and watch as your guests bite into the deliciously dark exterior.
With these creative Halloween treats for adults, you can elevate your spooky celebrations to a whole new level of fun and fright! So don't let the kids have all the fun – indulge in these eerie delights that are sure to impress both young and old alike!
IV. Healthy Halloween Treat Options
Halloween is synonymous with sugary treats and indulgent snacks, but that doesn't mean you have to sacrifice your health-conscious habits. With a little creativity and some nutritious ingredients, you can still enjoy delicious treats while staying on track with your wellness goals. Here are some ideas for healthy Halloween treats that will satisfy your cravings without compromising your health:
1. Spooky Fruit Kabobs
Turn ordinary fruit into a ghoulish delight by creating spooky fruit kabobs. Simply skewer small pieces of fruit like strawberries, grapes, and melon onto bamboo sticks or skewers. For an extra touch of spookiness, use mini marshmallows as ghosts or add candy eyeballs to the fruits for a haunting effect.
2. Witchy Guacamole Dip
No Halloween party is complete without some dip! Instead of reaching for high-calorie options, whip up a batch of witchy guacamole dip using fresh avocados, lime juice, diced tomatoes, onions, and herbs. Serve it with whole-grain tortilla chips shaped like bats or pumpkins for a festive twist.
3. Pumpkin Spice Energy Balls
If you're craving something sweet and pumpkin-flavored this Halloween season but want to avoid the excess sugar found in traditional pumpkin treats, try making pumpkin spice energy balls instead. These bite-sized delights are made from natural ingredients like dates, nuts, rolled oats, pumpkin puree, and warm spices such as cinnamon and nutmeg.
4. Monster Veggie Platter
Create a spooky yet nutritious centerpiece for your Halloween party by arranging an assortment of colorful vegetables into a monster veggie platter. Use sliced bell peppers as lips or teeth while arranging broccoli florets, cherry tomatoes, and carrot sticks as eyes, noses, and ears. Serve it with a healthy dip like hummus or Greek yogurt ranch dressing.
5. Ghostly Frozen Banana Pops
Transform ordinary bananas into adorable ghostly treats by dipping them in white chocolate and adding mini chocolate chips for the eyes and mouth. Place them on a baking sheet lined with parchment paper and freeze until firm. These frozen banana pops are not only visually appealing but also a healthier alternative to traditional ice cream treats.
With these healthy Halloween treat options, you can enjoy the festivities without feeling guilty about indulging in sugary snacks. Get creative with your presentation to make them extra spooky and fun for all ages!
V. Easy Halloween Treats for Last-Minute Parties
With Halloween just around the corner, it's time to start planning your spooky celebration. Whether you're hosting a last-minute party or simply want to surprise your family with some delicious treats, we've got you covered. These easy Halloween treats are not only quick to make but also guaranteed to impress all ages.
1. Spooky Spider Cookies
These creepy-crawly cookies are sure to be a hit at any Halloween gathering. Start by baking a batch of your favorite chocolate chip cookies, then add a touch of spookiness by placing black licorice legs on top of each cookie and using chocolate icing to create tiny eyes.
2. Mummy Hot Dogs
Your guests will love these adorable mummy hot dogs that are as tasty as they are cute. Wrap strips of pre-made crescent roll dough around each hot dog, leaving a small gap for the "mummy" effect. Bake until golden brown and serve with ketchup or mustard for dipping.
3. Frankenstein Rice Krispie Treats
Add some monster fun to your party with these Frankenstein-inspired Rice Krispie treats. Prepare the classic marshmallow and cereal mixture, but add green food coloring before shaping them into squares. Use melted dark chocolate as hair and candy eyes to bring Frankenstein's face to life.
4. Witch Hat Cupcakes
Aim high with these bewitching witch hat cupcakes that will cast a spell on everyone who tries them! Prepare your favorite cupcake recipe and top each one with an ice cream cone turned upside down – this creates the witch hat shape! Decorate with orange frosting and black licorice laces for an extra touch of magic.
5. Candy Corn Fruit Parfait
For a healthier alternative, try these candy corn fruit parfaits that are both delicious and visually appealing. Layer pineapple chunks at the bottom of a clear glass, followed by orange slices and topped with whipped cream or vanilla yogurt. The vibrant colors resemble the classic Halloween candy.
No matter which treat you choose to make, these easy Halloween recipes will ensure your party is a spooktacular success. Get creative with decorations and presentation for an extra dose of Halloween spirit. Happy haunting!
VI. Frequently Asked Questions about Spooky Halloween Treats
1. Are spooky Halloween treats only for children?
No, spooky Halloween treats are enjoyed by people of all ages. Whether you're a child or an adult, there's something exciting about indulging in delicious and creatively themed treats during the Halloween season.
2. Can I make spooky Halloween treats at home?
Absolutely! Making spooky Halloween treats at home can be a fun and rewarding activity for the whole family. There are plenty of recipes available online that provide step-by-step instructions on how to create various spooky delights.
3. How can I add a creepy touch to my Halloween treats?
To add a creepy touch to your Halloween treats, you can use food coloring to create eerie colors like green, purple, or black. Additionally, you can decorate your treats with edible eyeballs, gummy worms, or spider-shaped candies for that extra spookiness.
4. Are there any healthy options for spooky Halloween treats?
Absolutely! You can make healthier alternatives by using ingredients like fruits and vegetables in creative ways. For example, you can carve fruit into Jack-o'-lantern shapes or make ghostly banana popsicles dipped in yogurt.
5. Can I incorporate allergy-friendly options into my spooky Halloween treats?
Absolutely! It's important to consider allergies when preparing any type of treat. You can find allergy-friendly recipes that use alternative ingredients such as gluten-free flour or dairy-free chocolate chips so that everyone can enjoy the festive delights without worry.
6. What are some popular spooky themes for Halloween treats?
Some popular themes include ghosts, witches, vampires, zombies, and monsters. You can get creative with your treats by shaping them into these spooky characters or decorating them accordingly.
7. Can I make spooky Halloween treats for a party?
Definitely! Spooky Halloween treats are perfect for parties. Whether it's a small gathering or a large celebration, serving themed treats will add to the festive atmosphere and delight your guests.
8. How long do spooky Halloween treats usually last?
The shelf life of spooky Halloween treats depends on the ingredients used and how they are stored. It's recommended to consume homemade treats within 2-3 days if stored properly in an airtight container to maintain freshness.
9. Can I incorporate traditional desserts into my spooky Halloween treats?
Absolutely! You can give a creepy twist to traditional desserts like cupcakes, cookies, or brownies by adding themed decorations such as tombstone-shaped cookies on top or icing blood drips on the sides.
10. Are there any non-edible options for spooky Halloween treats?
Yes, you can also consider non-edible options like making slime jars with creepy creatures inside or creating DIY haunted house decorations using craft materials to enhance the spookiness of your Halloween celebrations.
Brenda Gilbert is a talented and passionate writer with an insatiable love for all things food. With her exceptional culinary knowledge and knack for storytelling, Brenda has captivated audiences through her engaging articles and mouthwatering recipes.
Born and raised in a small town, Brenda's fascination with food began at an early age. Her curiosity led her to explore various cuisines, experiment in the kitchen, and develop a deep appreciation for the art of cooking. Fuelled by this passion, she pursued higher education to refine her skills.
Brenda completed her Bachelor's degree in Culinary Arts from the prestigious Le Cordon Bleu Institute. During her time there, she honed her techniques under renowned chefs who pushed the boundaries of gastronomy. This invaluable experience not only expanded Brenda's culinary repertoire but also instilled in her a desire to share this knowledge with others.
After obtaining her degree, Brenda embarked on a journey as a professional chef, working at renowned restaurants where she continued to push herself creatively while perfecting classic dishes. However, it was through writing that she found the perfect avenue to combine both of her passions – food and storytelling.
With years of experience as both a chef and writer under her belt, Brenda possesses an innate ability to bring recipes to life through vivid descriptions that ignite readers' senses. Her articles seamlessly blend informative content with captivating narratives that cater to both seasoned food enthusiasts and beginners looking for inspiration.
Whether it's exploring exotic spices from distant lands or delving into traditional family recipes passed down through generations, Brenda has an unparalleled ability to transport readers into the vibrant world of flavors within each dish she writes about.
When not busy crafting delectable pieces on paper or experimenting in the kitchen herself, you can find Brenda Gilbert sharing tips on social media platforms or hosting interactive workshops where she imparts valuable insights on cooking techniques along with practical advice for aspiring chefs.
Brenda Gilbert is undoubtedly an influential figure in the culinary world, leaving an indelible mark through her writing that has inspired countless individuals to embrace their love for food and discover the joy of cooking.